Keeping passengers & crew safe
Sky Quest continues to monitor data, information, and recommendations provided by the multitude of sources pertaining to the COVID-19 pandemic. Our primary goal has been and remains to protect the health and welfare of our team members, passengers and their families. To that end, we are sharing facts and details about our business model and our response to this outbreak that enable us to keep our customers safe.
Facts
Our aircraft return to Cleveland almost everyday and do not "live on the road"
We employ a full-time ground crew who are trained specifically how to clean planes
Our jets are utilized by a smaller number of individuals compared to most fractional or floating fleet charter companies
Daily Crew Health Checks

Crew members are checked daily for signs of the virus and, if there is any doubt as to their health, they will be taken out of service until cleared by a certified professional.

Enhanced Cleaning Procedures

Standard cleaning procedures have been amplified, with all Sky Quest operated aircraft thoroughly wiped down — including lavatories, tray tables, window shades, and armrest — with a high-grade disinfectant and multi-purpose cleaner.

Pre-Treatment With MicroShield 360

All Sky Quest operated aircraft have been treated with the MicroShield 360 Antimicrobial system which provides a lasting antimicrobial coating to all surfaces within the interior of our jets.

Protecting Flight Crews

We are equally concerned about the health of crew members as well as our clients. Passengers will be required to fill out a health wellness declaration submitted at least 24 hours prior to the scheduled flight departure time.

Travel Itinerary Screening

Sky Quest has also applied heightened standards when reviewing flight requests to certain jurisdictions deemed to be at high risk for COVID-19, and flight planning teams may screen all passenger travel itineraries for the 21 days preceding their scheduled flight.

No-contact greeting

To minimize the risk of exposure, we have adopted a "no contact" greeting on behalf of the flight crew.

Extra Protective Measures

Sky Quest crew members will also be utilizing protective measures, such as masks and gloves, per the CDC recommendations.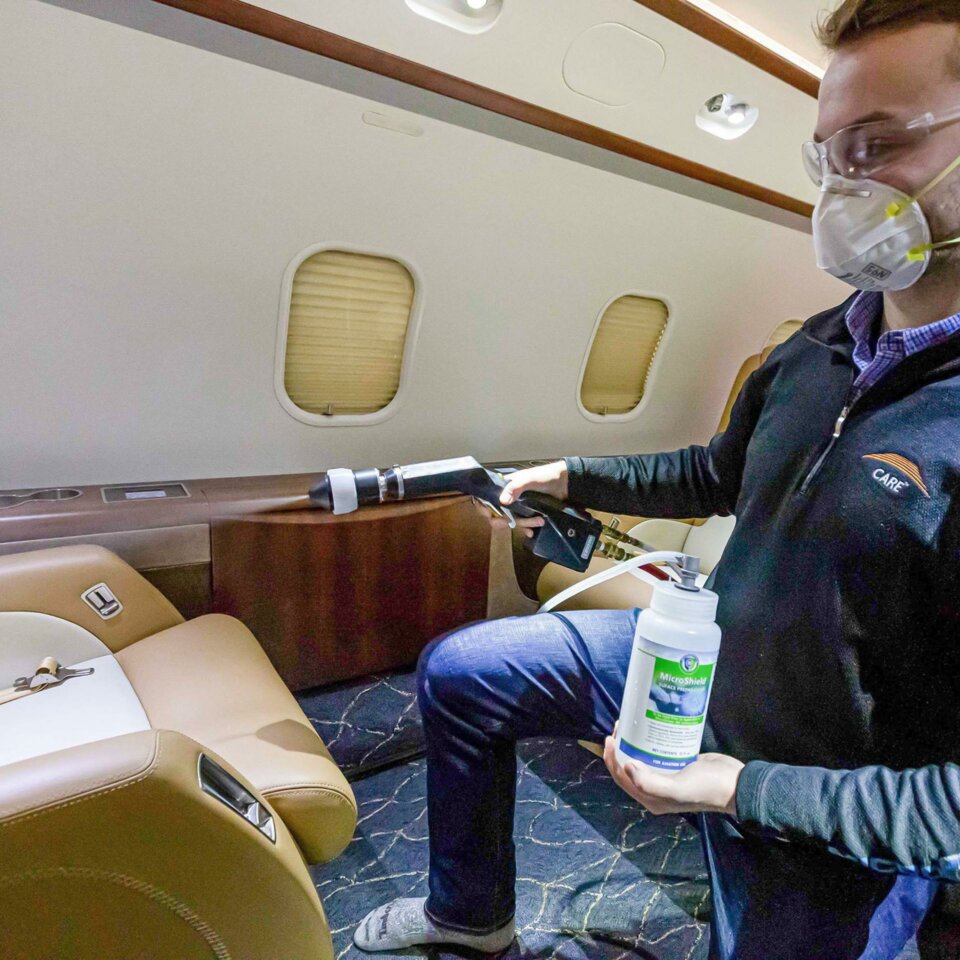 Comprehensive Cleaning

MicroShield 360

We utilize the MicroShield 360 system to ensure a thorough clean for all of our aircraft. MicroShield 360 requires a multi-step application process that works to immediately kill pathogens on all surfaces and then applies an antimicrobial coating to prevent pathogens from living on those surfaces moving forward.
Post-flight Disinfection
Sky Quest crews are currently stocking the aircraft with anti-bacterial hand wipes and cleaning supplies. They have been provided with specific directions on how to thoroughly clean the aircraft pre and post flight for all flights.
Areas targeted but not limited to post flight disinfection are as follows: Lav seat, handles, sink, and door latches, each seat armrest, seatbelt, tray table, Each seat headrest (top, sides, rear), tray latch, and air stair handrails.
The health and safety of crew and of our passengers is of the utmost importance to us, and we believe that we have implemented world-class protections to help in the prevention of the spread of COVID-19.
For any additional questions please contact our office: